About Sanskriti Architects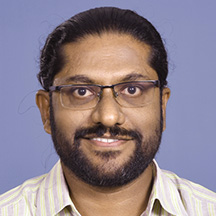 Sujith K Natesh
Chief Architect
Sanskriti Architects founded by Ar. Sujith K Natesh in 2005 and based in Tripunithura, Cochin,Kerala.
Each project, each client, each cultural environments requires a unique functional and aesthetic approach which results in spaces that are beyond client's expectations. We believe that architecture is the last point of realization of all artistic efforts and to create a work of architecture means to construct an ambience and to establish a way of life.
Guided by the design leadership of Ar.Sujith K Natesh, the firm is managed by experienced Architects, Engineers and supporting staffs. This structure guarantees consistency and high standard in design and execution.
We are constantly reinventing to deliver unique and practical solutions to all projects that we are involved. For all projects undertaken, regardless of scale or budget, we strive to gain a clear understanding of our clients briefs to define clear objectives and requirements.
We use sketches, physical models and computer modelling to analyze and develop designs. We pride ourselves on delivering personalised and professional service, together with value for money for our clients.
WHY US?
Sanskriti Architects has built reputation for delivering high quality, innovative and unique solutions.
Strong Collaborative Relationships

We have established strong collaborative relationships throughout the industry allowing us to develop innovative structural and environmental strategies for our projects.

Simple, innovative, efficient solution

The approach to all our projects is an unwavering pursuit of the right solution, that we look for simple yet innovative designs that work efficiently.

Personalised and professional service

Clear delivery of concepts are enjoyed by the end users and ultimately contribute to the context.
Sanskriti's services are divided into three functional catogories, which are...
learn

Our clients are the visionaries and we learn their needs through right questions.

Each particular project creates a kind of opportunity given its time, its context and its client.

create

Our core purpose is to create a good experience of Architecture through our client's vision.

We believe that a sophisticated integration of sustainable design measures in day lighing, sunshading & energy conservation.

construct

Drawing is our language. We have the best people who can shape our ideas to paper.

We provide all support to the clients in finalizing the best contractor who can erect our designs to a great level of perfection.